---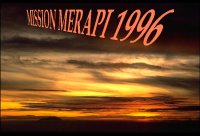 1996 IPGP Mission at Merapi Volcano
Photo Album by F. Beauducel (thanks to B. Thiel and P. Dandrieux, IPGP)
Introduction
Merapi volcano (2964 m, Java Central, Indonesia) is one the most active and dangerous andesitic volcano in the world. Recently, Merapi has experienced quasi-continuous extrusion of a highly viscous lava dome, partially destroyed by collapses that produce glowing avalanches and "nuées ardentes" sometimes deadly. This activity makes the Merapi an extraordinary "laboratory" for various scientific studies.
Each year since 1993, a team from Institut de Physique du Globe de Paris, carry on a mission of deformations measurements, including Global Positioning System, microgravimetry and stations installation for tiltmetry and extensometry continuous monitoring.
These diapositives are a selection from two missions in 1996, with participation of François Beauducel, Claude Courteille (Seismology Dpt), Philippe Jousset (Gravimetry lab.), Michel Dejean and Jocelyn Guilbert (CSN). Photos by François Beauducel (Nikon F601 camera, and FujiChrome Velvia ISO 50, originals are digitized in 3072x2048 pixels, 24-bit true color, then reduced to 768x512 pixels and compressed in JPEG for Web facilities).
F. Beauducel's Photos
These photos are protected by the law. Please inform the author if you want to use them.
Others
---