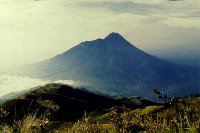 Merapi Volcano, Java
Scientific References

View of the volcano from the North (Mt. Merbabu, 3142 m)
© F. Beauducel 1993.
Introduction
The aim of this page is to offer a large and complete pannel of the scientific studies carried on at Merapi volcano. First of all, it presents a list of articles and other related papers, compiled from my Doctorate Thesis and completed with many references thanks to Eric Baer's homepage, GeoRef Database, Jon Fink, Andreas Müller, Birger-G. Lühr, Emily Constantine, Martin Müller, Karim Kelfoun, Lothar Schwarzkopf, Simon Carn, Ralf Gertisser, Frank Lavigne.
Second, the most relevant links that I recovered, a mirror of the VSI Merapi pages: Overview and Monitoring. I report also some of my photos from the 1996 IPGP mission, and an interesting discussion about the 1994 eruption (from VOLCANO LISTSERV). For official news on current activity of the volcano, I strongly recommend the MVO or GVN sites.
If you have any other references, thanks to email me!



Scientific Bibliography
Type List (Events, Articles, Thesis, Reports, Books, Maps, Abstracts)

Alphabetic List (A-Z first author index)
Some Relevant Links
Official Sites about Merapi
Indonesian-French Cooperation:
Indonesian-American Cooperation
Indonesian-Japanese Cooperation
People Investigating Merapi (and having a Web page!)
Search for Merapi Volcano (on the Web)