Make things as simple as possible, but not simpler. A. Einstein

LANDSLIDE GENERATED SEISMIC WAVES (LANDQUAKES)
As landslides accelerate and decelerate on their way down a slope, the forces they apply to the surface of the Earth generate seismic waves. These waves are recorded by local and even global seismic networks. The resulting seismic signals provide a unique tool to detect gravitational flows and obtain insight into their dynamics. Using a combination of numerical, experimental, seismological and geomorphological methods, our work focuses on understanding and quantifying the link between the generated seismic waves and landslide characteristics. Our aim is to allow the use of seismic data to interpret the flow dynamics and rheology of landslides.
Determining landslide flow characteristics from associated seismic signals
Favreau, P., Mangeney, A.,
Lucas, A.
, Crosta, G., and Bouchut, F., 2010. Numerical modeling of landquakes, GEOPHYS. RES. LETT.,
37, L15305
.
PDF
Moretti, L.
, Mangeney, A., Capdeville, Y., Stutzmann, E., Christian Huggel, C., Schneider, D., and Bouchut, F., 2012. Numerical modeling of the Mount Steller landslide flow history and of the generated long period seismic waves, GEOPHYS. RES. LETT.,
39, L16402.
PDF

Estimating rockfall volumes from radiated seismic energy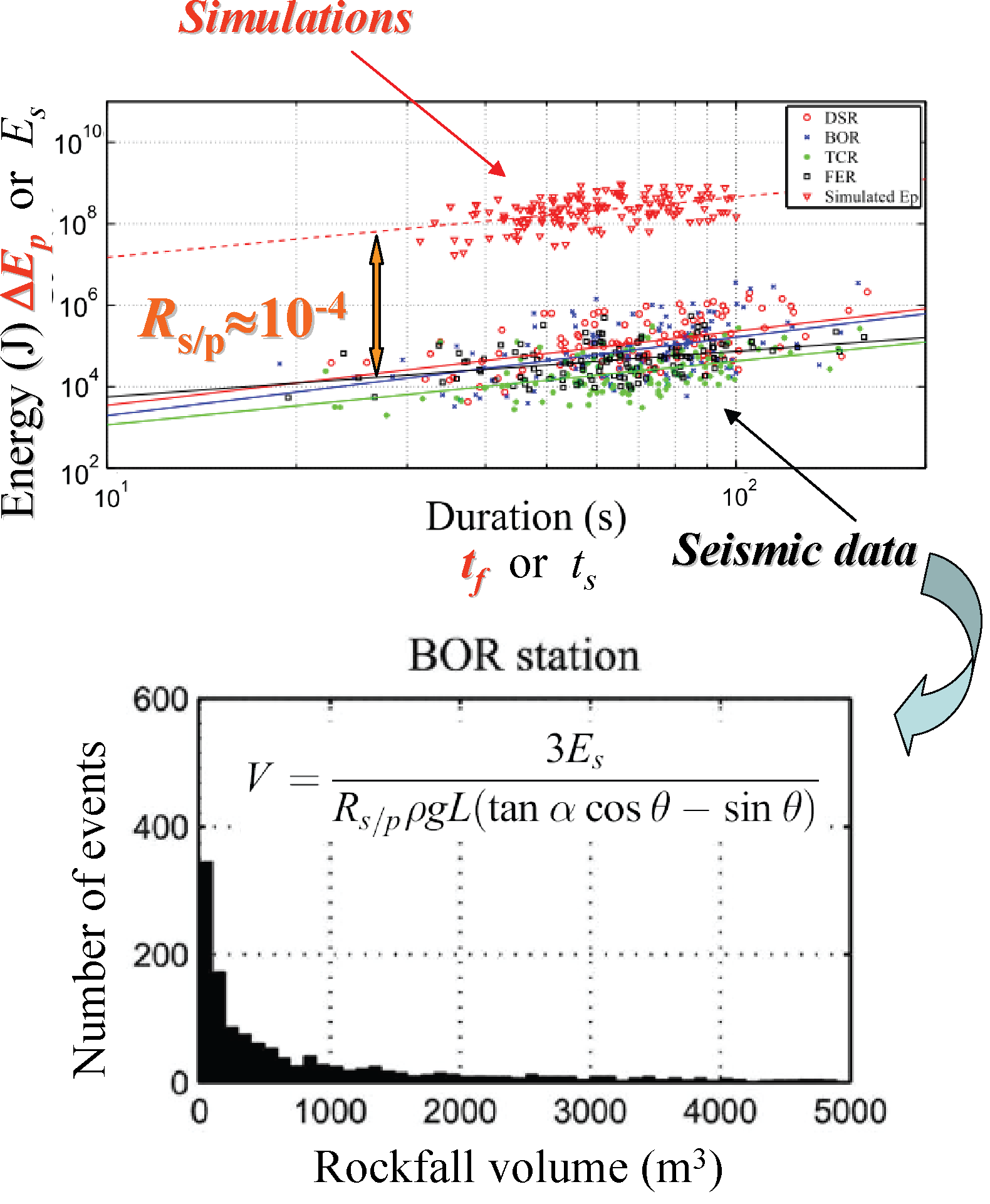 Hibert, C.
, Mangeney, A., Grandjean, G., and Shapiro, N., 2011. Slope instabilities in Dolomieu crater, Reunion island: From seismic signals to rockfall characteristics J. GEOPHYS. RES. - EARTH SURFACE,
116, F04032.
PDF

Measuring acoustic waves generated by experimental granular collapses
---
Listening to acoustic emissions
Farin, M.
, Mangeney, A., Toussaint, R., De Rosny, J., and Shapiro, N., 2013. Characterization of granular collapse onto hard substrates by acoustic emissions, EGU Meeting,
April 2013, Vienna, Austria.