Modeling soil reflectance as a function of water content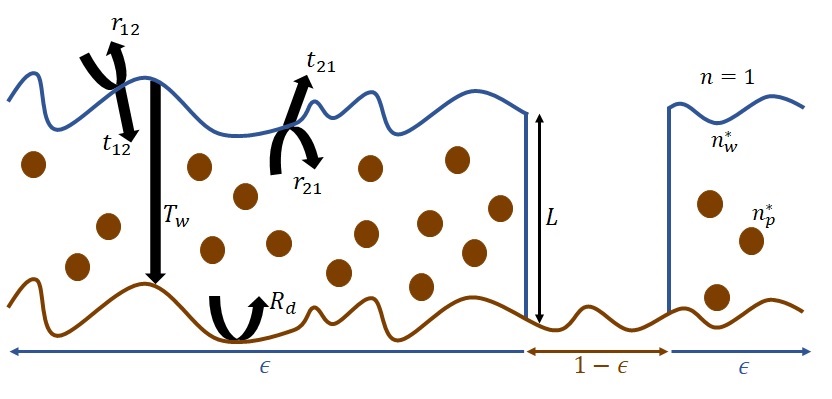 Soil moisture content (SMC) is a key variable at the Earth's surface. Its estimation is essential in many fields such as agriculture, hydrology, climate, defense or planetary science. Since the 1970s, airborne or satellite remote sensing has emerged as an effective tool for mapping surface SMC over large areas. Water can be probed at different depths in the soil depending on the wavelength domain: solar domain (0.3-3 μm), thermal infrared domain (3-12 μm), or microwaves domain (0.5-100 cm). The solar domain, which is the subject of this work, gives access to surface moisture because the depth of light penetration in the soil does not exceed one or two millimeters. The main objective of this thesis is to develop a physical model, including spectral and directional effects, validated on a large variety of soils, which links the soil reflectance in the solar domain to its moisture.
A new version of the MARMIT model called MARMIT-2 has been developed. It represents a wet soil as a dry soil covered by a thin layer of a mixture of water and mineral particles, this mixture being a major feature of MARMIT-2. The spectral reflectance of the wet soil is expressed as a function of the reflectance of the dry soil and three variable input parameters: the thickness of the water layer, the coverage fraction of the water layer and the volume fraction of soil particles in the water layer. MARMIT-2 was tested on a database of 225 soil samples with reflectance spectra measured in the laboratory at several moisture levels. The prediction of the reflectance spectra of wet soils was improved, with a RMSE of 2.2% for MARMIT versus 0.9% for MARMIT-2.
Considering that these "smooth" samples are not representative of natural soils, which are much more complex, and in order to adapt MARMIT-2 to airborne or satellite hyperspectral images, we studied the directional effects of soil roughness on reflectance by performing BRF (bidirectional reflectance function) simulations of rough and wet soils using the DART-Lux ray tracing software developed at CESBIO. We consider DTMs (digital terrain model) of artificial and real terrains cut into micro-facets. The optical properties of the facets are represented by isotropic or anisotropic models, and the variation of the parameters of these models allows to simulate different soil moisture levels. A coupling between spectral and directional effects is proposed to simulate reflectance spectra of a rough soil at different moisture levels in different conditions of illumination and observation.
After investigation the relationship between MARMIT-2 parameters and SMC for the soils samples in the database, SMC could be estimated with a root mean square error of about 3.6%. An example of soil moisture mapping is given, using a hyperspectral image of an agricultural field acquired with a VNIR-SWIR camera placed at about 15 m height above the ground.