Planetology and Space Sciences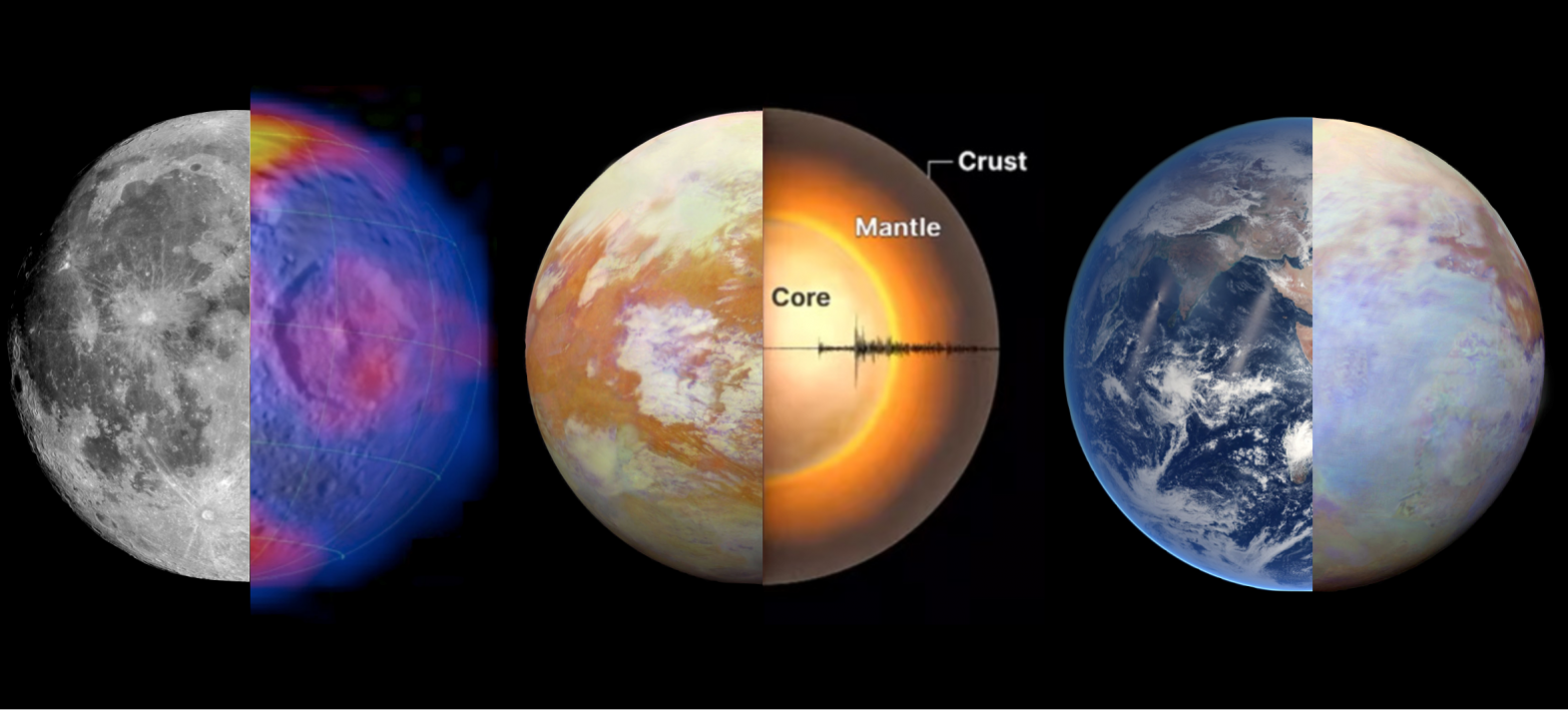 Our team is involved in the analysis of data from planetary and Earth observation missions, and participates in the development of seismometers for planetary missions. Our planetary science research involves geophysical and geodynamical studies of the terrestrial planets, and remote-sensing investigations of the icy moons and asteroids. We also investigate the coupling between seismic waves and the atmosphere on Earth, Venus and Mars. Most of the research of our team is made possible by our participation in several NASA and ESA related space missions. Our research laboratory is located in the building Lamarck at the Campus des Grandes Moulins (Université Paris Cité).
Space missions and observatories
Our research group is involved in the development of planetary seismometers and has key scientific roles in a number of ongoing an upcoming planetary missions and observation campaigns from Earth-based (Keck, VLT, Gemini, IRTF…) and space telescopes (JWST). Hardware contributions include the seismometer that was flown to Mars as part of NASA's InSight mission and a seismometer that will be flown to the farside of the Moon in 2024 as part of NASA's Farside Seismic Suite. Scientific contributions to upcoming missions include Lunar Vertex that will investigate one of the strongest magnetic anomalies on the surface of the Moon in 2024, BepiColombo that will arrive at Mercury in 2025, Psyche that will study an iron-rich asteroid in 2029, JUICE that will start its investigations of the moons of Jupiter in 2031, and Dragonfly that will make seismic measurements on Saturn's moon Titan in 2034. 
Our research group is also involved in the definition of future Earth observation missions, currently under development by CNES: BIODIVERSITY, a hyperspectral satellite with high spatial resolution, TRISHNA, a thermal infrared satellite with high spatial resolution.
Research themes