Geodesy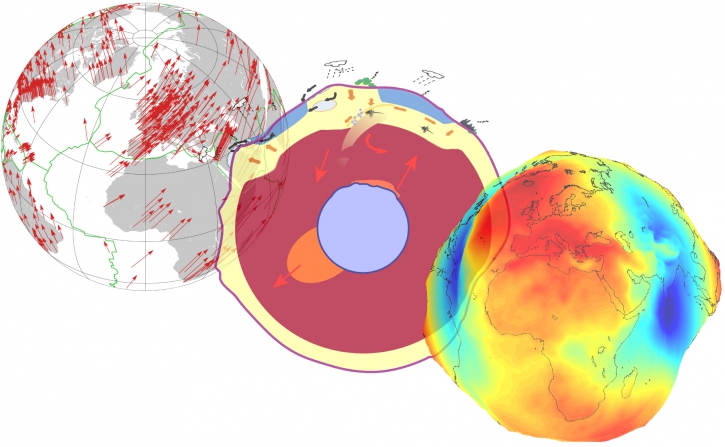 Space geodesy and gravity observations are uniquely sensitive to deformations of the Earth under various forcings (e.g. water loads at the surface) or as a result of its internal dynamics, as well as to associated mass redistributions at all depths. This is why they can provide original information on the Earth's rheology and internal dynamics, while allowing monitoring of the external fluid envelopes.
The exploitation of these observations presents several challenges, on which the Geodesy team is working. It is a question of integrating the information from different sensors in a coherent way to construct the most accurate crustal velocity and displacement fields possible over the long term and over the entire globe, and of separating the different types of superimposed signals and noise in the data. This methodological work goes hand in hand with geophysical modelling of the identified signals, in particular for the study of earth rheology, the seismic cycle and water balances in the outer envelope.
The Geodesy team was created in 2019 by the merger of the Gravimetry and Spatial Geodesy team (IPGP) with the LAREG team (IGN) after the integration of the Institut National de l'Information Géographique et Forestière (IGN) among the supervisors of the UMR IPGP.
The team's areas of expertise allow it to support the development of new space, airborne and surface sensors in terms of their scientific specifications or the development of dedicated analysis methods.
Several members of the team participate in the coordination and animation of the national thematic pole ForM@Ter in Solid Earth.